The cut shot
(Effatà Editrice - Cantalupa Torino)

Drowings byi Silvia Aimar
Graphics by Silvia Aimar and Vito Mosca
The birth of the story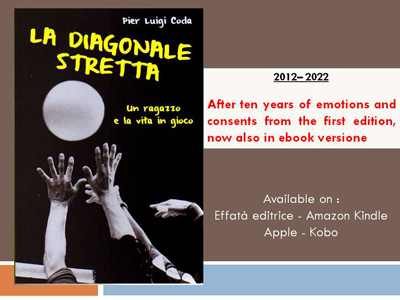 | Lausanne | "The cut shot" is the story of time and memory. Time plowing through the segments of the life and memory that will scratch and return them to us through other stories and other experiences. "The cut shot" is the story of youth, of the wonders of adolescence, of the terrible and restless days of adolescence. It is not the book of my childhood, there is nothing in the pages of autobiography, to write the stories I collected, many stories of so many boys and girls of our third millennium. I have collected them and cemented together and , day after day, I have found them written on the pages. |
| --- | --- |
| . In the background remains the opaque shade of my adolescence, the years of High School (Liceo Scientifico), the great passion for the sport, for volleyball, for afternoons spent on training 100-metres dash on the sporting stadium of Garbella at Imperia for the student championships, the primacy of our school against Ruffini, De Amicis, Nautic, the Cassini Sanremo. I still remember a squalid teacher of Drawing and History of Art according to which " who has legs no has head (Brains are better than brawn )" and I regularly was judged insufficient. What a foolish and unhappy woman! Yet still I thank her for giving me the "right weight" of life, she has left to me no resentment, but compassion and awareness that every day is captured with his own hands in spite of everything and everyone. | Oxford |
| --- | --- |



Oxford - High Street

Thus originated "thePierre" of "The cut shot", a brave and lonely boy who can measure up to his adolescence, which is strong self-confidence in himself and knows how to deal with family problems, unjust bullying, emotional turmoil.


And with Pierre also Gerda was originated with their strange love story.
Gerda, from the very first pages, has cost me so much effort and so many thoughts, however I've always been fascinated by the greatness of her heart, her generosity, the fragility of her life that no longer has the time or space because it seems that everything has already made over time and space of a single day on the shore of Lake Geneva: "The happiness must be used, gives the head like beer or cigarettes, if you're not, better give up."


.



| It has been pointed out that Gerda has been abandoned to the "last stop" of her journey, without prospects, without additional nourishment of life. I was told that the author has a "moral responsibility" toward his characters and, while Pierre can always recover his projects, for Gerda all is concluded with no other openings that left to filter the faint glow of dawn above the castle of Chillon. I do not know how Pierre will emerge from the story with Gerda, if he really will resume his "Plan B" without sequels in the heart, if his fingers can caress the ball volley as if nothing had happened and if indeed the next year will leave for Oxford with his friend Mark. I just know that I have loved more Gerda of the same Pierre and I could not help but follow in her destiny without alternatives. | Lausanne Cathedral |
| --- | --- |

Lausanne - Grand Pont


Lausanne - Ouchy

But around the two chief characters move other characters who I would not call them second leading actors: first, the family of Pierre, the father, the mother, the sister Gloria, then the friends, the Coach, ambiguous and opportunistic, the sweet Elise, the world of work. And the cities: Oxford, Lausanne, also them protagonists with their own scenarios and stories that intersect in an inseparable way with the experience of protagonists characterizing them with their landscape, shops, bars, street parties. These are cities that I know well and of which I feel the breath everywhere: Oxford glides along the banks of the Thames, Lausanne extends along the shores of Lake Geneva, and both are beautiful, intense of memories and lights, above the steeples of their cathedrals paints the opening of the day. For Pierre neither of two has a decent team of volley.