NINEL IVANOVNA PODGORNAJA

MAFALDA OF SAVOY HESSE
Easy being a princess...

(Solfanelli Editore - Chieti)

Translation from Russian: Alfredo Bertollo
Literary review : Pier Luigi Coda
THE BIRTH OF THE BOOK IN ITALY
A page of the original book in Russian

About the intriguing events that originated the book of Podgornaja we discussed it at length in the pages devoted to the "text", rather we will discuss here how news arrived in Italy and how the book has been published by Solfanelli an Editorial Group in Chieti. The credit goes mainly attributed to Alfred Bertollo, governor of the Cultural Association "La Corallina" of Santa Margherita Ligure, as well as thorough connoisseur of the language and Russian culture. Recall that some of his books about Liguria have been written and published in Russian.
Bertollo himself said he had seen by chance, towards the end of 2005, on the periodical "FERT" the cover of the book of Podgornaja indicating the 'altar of the homeland "with a picture of the princess of Savoy Hesse and the author's name . Intrigued he asked the book, read it very carefully and began to translate it into Italian.


Of this experience he noted: "The book, accompanied by many photographs provided to the author by the Hesse family, has the particularity to describe the unlucky Mafalda of Savoy Hesse not only from the historical aspect, common to that of many other biographies on Princess but also in terms of emotional, having the author followed her in the various chapters of his book, participating in all to her moral suffering with poignant poetic introductions in each of them. "
The rest is recent history, Bertollo reviews the book on DictaMundi, and also I are concerned: why not publish it in Italy? Bertollo tells me that perhaps the translation should be refined a bit and that he, still burdened with many cultural and literary commitments, not have the time material. Then I suggest you work closely together and define the book in the historical/ literary aspects. Then propose it to Marco Solfanelli, a publisher of considerable cultural authority of Chieti. In Chieti Princess Mafalda spent her last days in Italy before being interned in Buchenwald.


Castle Kronberg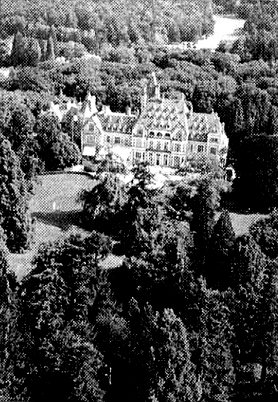 Castle Friedrichshof at Kronberg